Overview
Nestled in a sprawling 147-acre space, Srini Food Park is located at Mogili Village in Chittoor Dist. of Andhra Pradesh, India. This state-of-the-art facility provides world-class facilities for pulping, IQF, bottling, tetra packing, modular cold storage, warehousing and advanced testing lab. It enables basic and supply chain infrastructure, cluster farming and is ably backed by field collection centers, self help groups and individual farmers.

We believe in extracting nature's finest offerings and creating products that nourish life. As a result of our close interaction with nature, we have achieved the capability to skillfully blend natural ingredients with technological capabilities to achieve the perfect recipe for a balanced life.

From seed to shelf, Srini Food Park facilitates end-to-end food processing with beneficial forward and backward linkages. On par with techno-intensive software parks, this new-age facility is equipped with Central Processing Centre and Primary Processing Centres. It aims at becoming a pioneering infrastructure enabler and facilitator for the Food Processing Industry.

Srini Food Park will empower food industry with state-of-the-art infrastructure and quality raw material sourcing.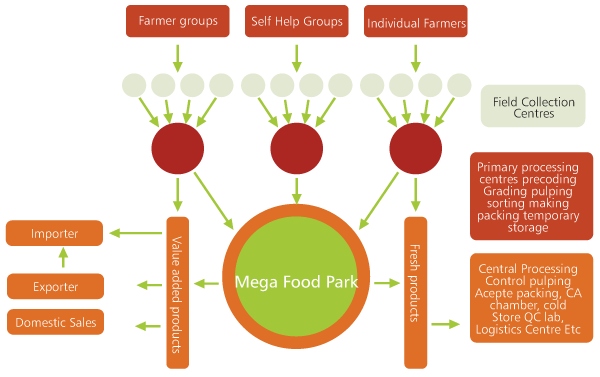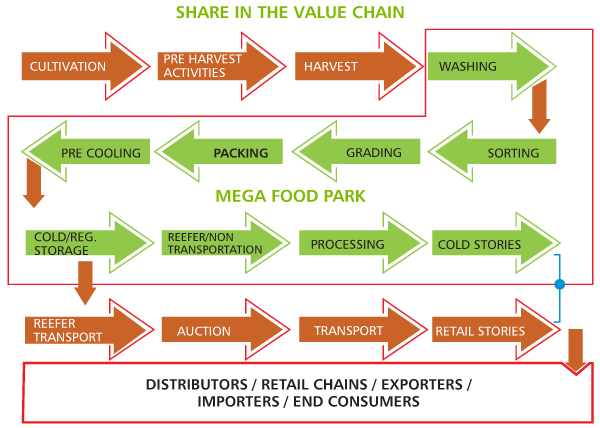 Mega Food Park occupies an area of 147 acres at a strategically advantageous location on the National Highway connecting Bangalore and Chennai; is only 120 kms from Tirupati, a pilgrim center with more than 150,000 floating population per day. Being equi-distant from two major metros in India, a major port (Chennai) and two international airports (Chennai and Bengaluru) and one domestic airport (Tirupati), it offers great benefits to food processors and buyers.

Master Plan